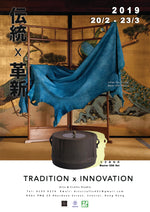 Tradition X Innovation
Arts & Crafts Studio delighted to present handcrafted exhibition 
Exhibition\
20/2, 2019 – 23/3, 2019
Time: 11:30 AM - 7:30 PM
Venue: H401 PMQ . 35 Aberdeen Street . Central . H.K 
SUKUMO LEATHER
In Japan, the veneration of indigo, called Ai, homophone of the word «love», is strongly rooted in tradition. With antimicrobial properties, it's used to protect against vermin and also from bad luck. Countless objects were thus dyed in indigo colour, such as linen, kimonos, but also mattress covers, headgear, etc. The art of indigo dye resists the progress of the chemical dye industry thanks to the passion of some Japanese artisans like Asai Naoyuki. Working in Kyoto, he uses traditional methods, but continues to explore new possibilities, including the dyeing of indigo leather under theSUKUMO Leather brand.
The SUKUMO Leather is given its unique indigo colour in a completely natural process. Following a 600-year-old Japanese tradition, the dye is made from the fermented leaves of the mature indigo. The dye, Sukumo, is produced in the Awa district of Tokushima Prefecture. The different available patterns and indigo hues can be combined to the customer's requirements to provide a worldwide unique association.
天明(命)鑄物 Tenmyo casting
(櫪木縣/ 7世紀~)
Tenmyo casting is a work made in the land of Shimotsuke no Kuni Sanotenmyo (Sanoshi, Tochigi prefecture), the beginning is said to be 781 years, it is the second oldest history in Japan.
In the Azuchi-Momoyama period, combined with the trend of the tea ceremony, the rusticity and simplicity of "Tenmyo pot" is greatly liked by tea men. There is also a document stating that "Sen no Rikyu" who is foremost person of tea ceremony and respected as a tea holy held a tea ceremony using the "Tenmyo pot".
Also, although the anecdote of Nobunaga Oda and the "HIRAGUMOGAMA" is famous, it is said that Hideyoshi Toyotomi habited "SEMEHIMOGAMA", and Ieyasu Tokugawa habited "KAJIGAMA". All these are "Tenmyo pots".