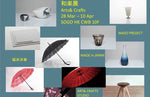 和楽展 -Arts & Crafts- 
⭐️WADO PROJECT
Acting as a bridge between Japanese artisans and Hong Kong audiences who love Japanese arts and crafts, WADO PROJECT would like to present excellent ceramic tableware by HANASAKA craftsmen from Komatsu city, Ishikawa prefecture, and selected ceramic and glass works by three individual artists from Tajimi city, Gifu prefecture and Seto city, Aichi prefecture.
HANASAKA is a ceramic tableware brand established by craftsmen of Taniguchi Seidosho who have been producing soil of Kutani porcelain as a new attempt to focus on emphasizing character of soil itself. Traditional Kutani porcelain is usually known as its beauty of over glazed and painted decoration; however, HANSAKA craft
smen try to apply their skill to create something new and original, inspired by nature of the soil itself, absolute foundation of Kutani Porcelain. "Blan" and "Canvas" series we present this time are very transparent in white and finely smooth and thin porcelain of liquor glasses and plates. They are all handmade by craftsmen,

Misa Mizuno, Youhei Nagakusa, and Nagisa Shirai are up and coming young artists based in Tajimi city, Gifu prefecture and Seto city, Aichi prefecture. It's very first time for them to show their works in Hong Kong and they are happy to exhibit their unique works of drinking vessels like sake cups and flower vases and tea bowls. Misa Mizuno has her glasswork studio in Tajimi city and creates drinking vessels of beautifully colored mosaic glasses. Yohei Nagakusa, also based in Tajimi ciry, has been known as making graceful flower petal like sake cup with blue and creamy white colored glaze. Nagisa Shirai, based in Seto city, Aichi prefecture, is very unique to create monotone sumi-ink like paint pattern on her ceramic works.

⭐️FUKUI YOUGASA

 


Fukui Yougasa is a major umbrella manufacturer in Fukui; Fukui Yougasa brings traditional Japanese umbrella into modern use. Fukui Yougasa 's umbrella combined with high value of silks, made with both natural materials and strong carbon fiber as an umbrella frame. This combination has realized a product that is both elegant and functional. A fusion of Japanese and Western styles, of Japanese traditions and state-of-the-art technology. Fukui Yougasa's umbrella is unique Japanese culture developed through the skillful adoption and integration of Western civilization elements.