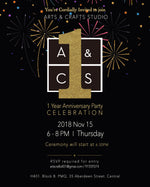 Dear Our Friend and value Customer 
Thank you so much for supporting our business. 
Since last November, we become one year old!

We are so delightful having this moment that we have been supported from many friends and customers.
Once again, Thank you so much for all the support! 
We wish to have a one year anniversary Party with all of you! Please join us in ARTS CRAFTS STUDIO! 
Time:

15 November 2018 , 6 - 8 PM (Ceremony at 6:30PM)
Location:

H401 ARTS & CRAFTS STUDIO & BALCONY 
We are look forward to meeting you on Nov 15 Party night! 
Sincerely, 
 JUNKO GENNAMI  &  ACS ALL STAFF