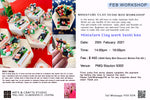 Reiko Omura
lived in Hong Kong for 29 years and have now worked as a miniature clay teacher here for 23 years.
have a fascination with cute miniature models and have been sharing this with my friends and students for many years. I mainly teach in Hong Kong but also run classes in Tokyo, Osaka, Kobe and Nagoya.
The classes range from try-out sessions to advanced classes and courses to make people into miniature clay teachers with certificates. Classes are available for all levels and abilities!
In the lesson, we will learn to make Japanese sushi Box which are one twelfth of the real size using clay.
This will include cute miniature sushi, plate and wooden accessories box.
Beginners are Welcome! Come and join the class to make this cute and beautiful sushi box.
大村 れい子
 -在香港生活了29年,現在在香港擔任微型粘土老師已有23年。
-對可愛的微型模型著迷,並跟朋友和學生分享了很多年製作微型粘土的經驗。 主要在香港教授粘土課程,同時在東京,大阪,神戶和名古屋也有開課。
-課程範圍從入門的初級課程到高級課程,讓大家成為擁有證書的微型粘土老師。 課程適用於所有級別和能力!
 而在本課程中,將學習使用粘土製作日本壽司盒,其尺寸是實際尺寸的十二分之一。 這將包括可愛的微型壽司,盤子和木製配件盒。 歡迎初學者! 快來加入課堂,製作這個可愛又漂亮的壽司盒。