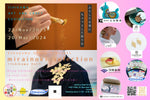 Yokoyama Group Present 横山商会呈獻
Ishikawa Arts And Crafts Exhibition – Mirainoki Selection Ishikawa Ver
- Yokoyama Group Presents –
Ishikawa Arts And Crafts Exhibition – Mirainoki Selection Ishikawa Ver
Bring Ishikawa's Gorgeous and Traditional Crafts In Your Life, Japanese Handcrafts Brand KUTANI TOUSEN, YOKOYAMA, COTCH, JUL, GOLD-KNOT, KAGA YUZEN MAIDA & IMAI KINPAKU etc Will be showing in our Exhibition.
Brand Information
Yokoyama Shokai
Yokoyama Shokai was founded in Kanazawa, Ishikawa Prefecture in 1921and celebrated the 100th anniversary in 2021. As the oldest Hitachi distributor in Hokuriku Japan, Yokoyama Shokai started with the sales, construction, and maintenance of equipment. Now Yokoyama group are also engaged in the development, design, and manufacture of electronic devices and IC chips, as well as overseas business support.
Yokoyama group continue to be a company that can contribute to local industries and communities. This time, Yokoyama Shokai will hold a pop-up of clothing accessories and daily necessities using traditional techniques and techniques from Ishikawa Prefecture. Please enjoy the warm texture and high-quality traditional crafts of Ishikawa Prefecture.
MIRAINOKI
May our actions for the future take root little by little and spread like a tree. You can contribute to 11 goals of SDGs (from Golds 1 to 17) by using our product ecotowrap. Ecotowrap 8 product designs using artwork created by people with disabilities.
Cotch/木tch
Cotch is a fashion and hair accessories brand founded by graphic designer in Kanazawa City. Cotch items are made from Japanese walnut tress that have grown over time.
Jul murmur
Jul murmur is the Washi accessory brand established by Miki Kita in 2014 in Kanazawa city, Ishikawa. Made of Ishikawa prefecture's 1300-year-old precious traditional craft Futamata Washi (Japanese handmade paper).
Imai Kinpaku
Imai Gold Leaf was founded in Kanazawa in 31st year of the Meiji Era and has preserved the tradition of gold leaf for more than 100 years.
Kutani Tosen
Founded in 1863 and established in 1946, it is a wholesale manufacturing company of Kutani ware. Kutani Tosen handles everything from chopstick rests to human national treasures. Kutani Tosen offer pop products that inherit the tradition of Kutani ware.
MAIDA KAGAYUZEN
MAIDA seeks new designs and ways of KAGAYUZEN, aiming to fuse kimono and modern culture while inheriting the 400-year-old tradition of KAGAYUZEN. This time, MAIDA will show us a series of KAGAYUZEN accessories that are carefully finished using traditional techniques. Please kindly enjoy the warm texture and high-quality feeling unique to hand-painted and hand-dyed.
Gold Knot
Gold-Knot is jewelry combined with traditional Kanazawa crafts and European lace techniques. The 16th century European tatting lace is decorated with Kanazawa-foil, which has a history of more than 400 years. Two traditional techniques are used in the Gold Knot items.
 石川工藝美術展 - 未来の木 石川県編
 將石川県華麗的傳統工藝品帶入您的生活
 展覽中將會展示九谷陶泉、横山、木TCH, JUL, GOLD-KNOT, KAGA YUZEN MAIDA、今井金箔等不同的手工製作品牌
將石川県華麗的傳統工藝品帶入您的生活,展覽中將會展示九谷陶泉、横山、木TCH, JUL, GOLD-KNOT, KAGA YUZEN MAIDA、今井金箔等不同的手工製作品牌。
品牌介紹
橫山商會
橫山商會於大正10年(1921年)在石川縣金澤市成立,並在令和3年(2021)迎來了成立100周年。作為北陸歷史最悠久的日立經銷商,橫山商會從設備和設備的銷售、建造和維護開始,現在還從事電子設備和控制IC晶元的開發、設計和製造,以及海外業務支援。
橫山商會希望繼續成為一家能夠為當地產業和當地社區做出貢獻的公司。這一次,橫山商會將舉辦石川縣使用傳統技術和工藝製作的服裝配飾和日用品的展示會,期待大家能享受石川縣的溫暖質地和高品質的傳統工藝品。
未來之樹
為未來的行動一點點地生根發芽,像樹一樣蔓延開來。使用ecotowrap可以為SDGs(17個目標)的11個目標做出貢獻。ecotowrap是一種新的道德產品,在設計中使用殘疾人的藝術作品。它僅由天然材料製成,因此當它無法使用時,可以將其放回土壤中,對地球環境沒有污染和傷害。
Cotch/木tch
Cotch是日本金澤縣的木飾品品牌,飾品使用了純日本產的胡桃木為材料,以及日本傳統的天然塗料"柿漆"和蜂蠟(100%的天然成分)製作。
Jul murmur
Jul murmur是2014年石川縣金澤市由北 美貴成立的和紙飾品品牌。飾品是一種具有獨特透明感的手工和紙飾物,使用具有1300年歷史的石川縣罕見的傳統工藝品"二俁和紙"一一精心完成。
今井金箔
今井金箔於明治31年在金澤創立,100多年來一直保留著金箔的傳統。
九谷陶泉
九谷陶泉創業於1863年,並於1946年成立九谷燒批發製造公司。九谷陶泉經營的產品上至國家珍寶下至筷子架,提供繼承九谷燒傳統的人氣產品。
毎田染画工芸 加賀友禅
毎田染画工芸繼承加賀友禪400年傳統的同時,尋求友禪的新設計和方式,旨在融合和服和現代文化。本次展示的產品是一系列使用傳統技術精心製作的友禪配件。請體會手繪和手染獨有的溫暖質感和高品質感覺。
Gold Knot
Gold-Knot是採用傳統金澤工藝和起源於歐洲的蕾絲技術完成的配飾。Gold-Knot產品是融合了400多年歷史的金澤傳統工藝"金澤箔"與源於16世紀歐洲的"針刺蕾絲"技術製作的"金結"。
有關 Arts & Crafts Studio
Website: https://ac-std.com
Facebook: www.facebook.com/artscrafts401.hk
Instagram: @artscrafts401