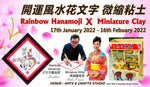 REIKO OMURA
lived in Hong Kong for 29 years and have now worked as a miniature clay teacher here for 23 years.
have a fascination with cute miniature models and have been sharing this with my friends and students
for many years. I mainly teach in Hong Kong but also run classes in Tokyo, Osaka, Kobe and Nagoya.
The classes range from try-out sessions to advanced classes and courses to make people into miniature
clay teachers with certificates. Classes are available for all levels and abilities!
大村玲子
在香港生活了29年,已有23年的微型粘土老師經驗。
她對可愛的微型模型著迷,並一直與朋友和學生分享
很多年她的創作。主要在香港教授,但也在東京、大阪、神戶和名古屋舉辦過課堂。
課程範圍從試用課程到高級課程和課程,讓人成為微型
有證書的粘土教師。課程適用於所有級別和能力!
Jonathan
Chinese rainbow calligraphy originated from more than two thousand years of history. Traditional Chinese culture and art. This art is made by combining different flowers, birds and animals. With different colors and techniques to beautify Chinese characters, Chinese rainbow calligraphy has attracted customers from different countries all over the world.  , It is a kind of gift-giving and home decoration gift.
Jonathan
中國彩虹書法起源於二千多年歷史,中國傳統文化藝術,這種藝術是利用不同花鳥和動物結合而成,加上不同色彩和技巧美化中國文字,中國彩虹書法吸引了世界各地不同國家客人喜愛, 是一種送禮佳品和家居裝飾禮物。