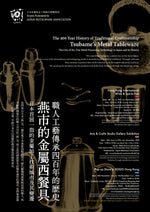 DATE : 14/11 - 27/11
TIME : 11:30 PM - 7:30 PM (Last day 27/11 will close at 3PM)
VENUE: H401 . PMQ . 35 Aberbeen St., Central . H.K
"The 400 Year History of Traditional Craftmanship: Tsubame's Metal Tableware"
The City of No. One Metal Processing Technology in Japan and its History
JAPAN METALWARE ASSOCIATION is located at the center of Tsubame city, Niigata prefecture. The association comprises over 60 metal processing enterprises that produce top-notch quality kitchenwares and tablewares.
 Known as local industrial area of metal processing, Tsubame City flourished and developed a strong global reputation. We proudly present you the city's 400-year manufacturing history, as well as the sophisticated techniques highly praised all over the world through showcasing samples of these products.
 You are cordially invited to attend these events. Come and learn more about the pride of Japan: The technology of sophisticated Tsubame craftsmanship!