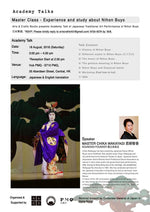 Arts & Crafts Studio Present Academy Talks - Master Class of Experience and study about Nihon Buyo 

 

DATE :  18 August, 2018 (Saturday)

TIME :   3:00 pm – 4:30 pm  *Reception Start at 2:30 pm

VENUE :   Hub PMQ - S710

LANGUAGE : Japanese & English translation

 

Talk & Workshop 

1/ History of Nihon Buyo

2/ Different styles in Nihon Buyo (五大流派)

3/ The music of Nihon Buyo

4/ The gesture meaning in Nihon Buyo

5/ Nihon Buyo and Classical ballet

6/ Workshop

7/ Q&A

 

Speaker:

MASTER CHIKA WAKAYAGI 若柳智香 (KOUNOKAI FOUNDER 香之会会主)

Chika Wakayagi has been practicing Japanese Dance (Nihon Buyo) since childhood. She studied under Chijyu Wakayagi and has performed at the National Theater of Japan, Japanese Dance Association (Kochi Branch) Kochi Prefectural Dance Association as well as in many other public and government level performances.  

After moving to Hong Kong due to her marriage, she established Wakayagi Ryu Konokai in 1999. She has conducted seminars for the Japanese Consulate in Hong Kong as well as seminars, workshops and demonstrations for many universities in Hong Kong and Macau. 

In honor of the 10th anniversary of Konokai's annual performances, they hosted the first full-costume traditional dance performance in Hong Kong featuring Japanese performers called "The Beauty of Japanese Tradition" in March 2018.