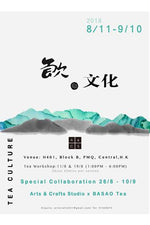 We delighted to present "Tea Culture 飲. 文化". During the show, we will introduce about tea history, included  Japanese Tea and Chinese Tea. By the time, you can also find more luxury Japanese collection of tea wares.
From 26/8 – 10/9  Special Collaboration 
[ ARTS & CRAFTS STUDIO x BASAO ]
First collaboration with BASAO to bring you an unique experience, exploring the way of the tea from the traditional aspects to the modern style. Our tea master will guide you through a comprehensive journey, delving into the tea culture of Japan and China.
Enter the realm of tea appreciation with BASAO's workshops to discover the exquisite tastes and diversity of fine tea. BASAO tea master will be showcasing the use of traditional Tetsubin (iron kettle) to brew BASAO selected Chinese Tea / Indian Tea/ Japanese Tea during the workshop. 
BASAO's Sunday tea workshop
AUG 26  / Sept 2 / Sept 9
Japanese Sencha Way from 3pm -3.30pm
Gongfu Style from 4pm -4.30pm
Gaiwan Way from 5pm -5.30pm
RSVP: artscrafts401@gmail.com/ Tel: 9155-9374