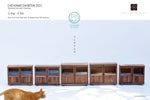 DATE
11 August 2023 (Friday) – 3 September 2023 (Sunday)   TIME 11:30am - 18:30pm
About CHICHOIMAO
CHICHOIMAO is a wood working studio founded in 2019 Hong Kong. This Hong Kong based workshop is founded by one carpenter and two cats.
CHI CHOI MAO = 自在貓
The name CHI CHOI MAO is the pronunciation of Cantonese "自在貓". It is hoped that our products can create harmonic and a relaxing atmosphere, just like the life of our cats founder (Kin Kin & Ar Mei). CHICHOIMAO creates small sized furniture with solid wood which fits nowadays living condi- tions. By using traditional joinery techniques, it gives the works a more elegant look with longer life. We wish our clients can enjoy the beauty of craftsmanship, with minimal and everlasting style, deco- rative but useful in daily lives.
Making fine wood products with affordable prices is the goal of CHICHOIMAO.
About the artist :
CHICHOIMAO is founded by Chow Wing Sing, who used to be a commercial photographer in Hong Kong. Sing started his photography carrer from 2004 as a magazine photographer, then start his own pho- tography studio in 2008 which focus on print ads, still and corporate photography. Works included ads for W Hotel, Esquire, Swire, Cathay Pacific, Breguet, Bank of China (HK), etc.
At 2014, Sing learnt wood working shortly during a vacation in Taipei, and practice in his photography studio after back to Hong Kong. At 2019, Sing started a small wood working studio, and began to use the name of CHICHOIMAO to produce and publish his wood work, and become a full-time carpenter.
日期
2023 年 8 月 11 日(星期五)- 2023 年 9 月 3 日(星期日)時間 11:30am – 6:30pm 
關於自在貓
自在貓是一家木工工作室,於 2019 年在香港成立。這家位於香港的工作室由一名木匠和兩隻貓創立。
CHI CHOI MAO = 自在貓
"CHI CHOI MAO" 這個名字是粵語 "自在貓" 的發音。希望我們的產品能夠營造出和諧、輕鬆的氛圍,就像貓創始人(健健&阿美)的生活一樣。CHICHOIMAO 創造了適合當今生活條件的小型實木家具。採用傳統的細木工工藝,使作品外觀更加優雅,壽命更長。我們希望我們的客戶能夠享受工藝之美,簡約而永恆的風格,裝飾性但在日常生活中有用。
製作精美、價格實惠的木製品是自在貓的目標。
關於藝術家:
自在貓是由曾是香港商業攝影師的周穎聖創立的。Sing 於 2004 年以雜誌攝影師的身份開始了自己的攝影生涯,並於 2008 年創辦了自己的攝影工作室,專注於平面廣告、靜態照片和企業攝影。作品包括W酒店、Esquire、太古、國泰航空、寶璣、中國銀行(香港)等廣告。
2014年,Sing在台北度假期間不久學習了木工,回到香港後在自己的攝影工作室練習。2019年,Sing創辦了一個小型木工工作室,並開始以CHICHOIMAO的名義製作和出版他的木工作品,並成為一名全職木匠。
Presented & Organized  
Supporting Partner
 https://designinspire.hktdc.com/