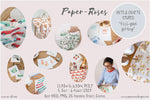 Hong Kong-based design house Paper-Roses makes it easy to give beautiful guilt-free gifts, with a showcase of planet- happy, heartfelt homewares, ornaments and stationery, all focused on sustainability.
ARTS & CRAFTS STUDIO POP-UP
www.paperrosesdesigns.com
If you're in search of meaningful and joyous gifts for your loved ones or some beautiful new goodies for yourself, Hong Kong-based design house Paper- Roses' planet-happy and heartfelt homewares, ornaments, cards, wrapping and more—all focused on sustainability and creativity—may be just what you're looking for.
Drawing inspiration from Hong Kong and beyond, each piece is lovingly designed by Paper-Roses' artist and founder, Penny Creedon. Devoted to crafting products that make gifting that little bit more intentional and magical, Penny creates work that is beautiful, uplifting and sure to leave any recipient smiling. Her aim? Planet-happy gifting—sharing smiles, hugs and laughter while being as kind to the planet as you can.
A boutique Hong-Kong based design house, Paper-Roses' focus is on hand-drawn designs, sustainable materials and thoughtful packaging. All produced with the support of local, Hong Kong-based businesses, Paper-Roses' greetings cards, gifts and other goodies are crafted to keep our planet as happy as possible. Paper products are professionally printed on 100% post-consumer recycled paper with environmentally friendly printing processes, while fabric products are made using super soft 100% organic cotton. Packaging is either non-existent or specially designed using recyclable and compostable materials.
總部位於香港的設計公司 Paper-Roses 展示了環保、貼心的家居用品、裝飾品和文具,所有這些都注重可持續發展,讓人們可以輕鬆贈送精美而無罪惡感的禮物。

ARTS & CRAFTS STUDIO 期間限定店

www.paperrosesdesigns.com

如果您正在為您所愛的人尋找有意義和快樂的禮物,或者為自己尋找一些漂亮的新禮物,香港設計公司 Paper- Roses 的地球幸福和真心的家居用品、裝飾品、卡片、包裝等——全都專注 關於可持續性和創造力——可能正是您正在尋找的。

從香港及其他地方汲取靈感,每件作品均由 Paper-Roses 的藝術家兼創始人 Penny Creedon 精心設計。 Penny 致力於製作讓送禮更有意義、更神奇的產品,她創作的作品既美麗又令人振奮,一定會讓任何接受者微笑。
她的目標?是關愛地球的禮物——分享微笑、擁抱和歡笑,同時盡可能地善待地球。

Paper-Roses 是一家位於香港的精品設計公司,專注於手繪設計、可持續材料和周到的包裝。 Paper-Roses 的賀卡、禮品和其他商品均在本地香港企業的支持下生產,旨在讓我們的地球盡可能快樂。 紙製品採用環保印刷工藝在 100% 消費後再生紙上專業印刷,而織物產品則使用超柔軟的 100% 有機棉製成。 包裝要么不存在,要么使用可回收和可堆肥材料設計的極盡環保。
Presented & Organized  
Supporting Partner

 https://designinspire.hktdc.com/