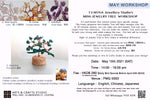 Japanese Jewelry Artist Ms Urabe Chieko Instruct 
Pump up your luck, Making a mini-Jewelry Tree Class
It's well known that natural stones has specific energy. This lovely gorgeous mini-Jewelry Tree will helps energize your life.  In 90 minutes session, you can make one mini-Jewelry Tree suit your target from four selections.  You can make the Jewelry Tree more powerful with your strong wish while making the tree.  The luck will be stronger if you pumper it everyday.
Hight of Jewelry Tree is 8cm(there is individual difference)
You can choose;  Rose quartz  Improves good relationship and love
Amethyst  Makes you relax, provides good sleep
Citrine   For fortune
Malachite  Avoids evil, protects you from bad energy
Please Sign up this workshop at Arts & Crafts Studio to increase your energy !
Date: 2021 May 15th 
Time: 14:00 - 16:00 
Fee:  HKD280-  Early Bird Special Discount: HKD250-
Venue: S302 (PMQ)
Notice; Please bring one box with some stuffing(ie, tissue paper etc) to take Jewelry Tree back home safe.
日本珠寶藝術家 URABE CHIEKO 教授 - 迷你水晶樹工作坊
提升運氣,參加迷你水晶珠寶樹課程
眾所周知,天然寶石具有特定的能量。 這棵美麗的迷你珠寶樹將為您的生活注入活力。
在90分鐘的課程中,您可以從四種水晶石選擇中選出一棵適合您的目標的迷你珠寶樹。 您可以在製作珠寶樹時以自己的強烈願望使珠寶樹更強大。 如果每天灌注能力,運氣會更強。
珠寶樹的高度是10厘米(有個體差異)
您可以選擇; 玫瑰石英改善了人際關係和愛情
紫水晶讓您放鬆,提供良好的睡眠
黃水晶財富
孔雀石避免邪惡,保護您免受不良能量的侵害
趕快到Arts & Crafts Studio報名參與工作坊提升能量 ~
日期: 2021/5/15
時間:14:00 - 16:00
費用; HKD280-    早鳥優惠:港幣250-
地點: S302(PMQ)
注意; 請帶備一個盒子裡塞滿一些東西(例如薄紙等),將珠寶樹放回家裡。