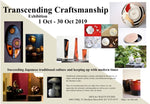 Craftsmanship techniques handed down for hundreds of years in Japan. 
It has been passed down to the present age while protecting the technique and taking on new challenges with the times.
Please add crafts to your life as a work of art and as an item for everyday use.
I don't know just by looking at it for a moment. Feel ease of use, healing just by see, being stimulated, a different mind change than before, and the charm of craft.
在日本流傳了數百年的手工藝技術
它已經傳承到現在,同時保護技術並與時俱進迎接新的挑戰。
在日常生活中添加工藝品作為藝術品和日常用品。
體驗一下日本工藝品傳統的魅力,易用性和工藝的吸引力令心靈的癒合。