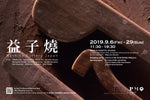 Exhibition Period: 6 September - 29 September 2019
 Opening Hours: 11:30 am – 7:30 pm everyday
After a year of preparation, we are proud to announce that we will be holding a "Mashiko Pottery Exhibition" at ARTS & CRAFTS STUDIO, PMQ from 6 September to 29 September 2019. Around 300 Mashiko Pottery products will be exhibited at our event and they will be available for sale.
 Mashiko Pottery is designated as "National Traditional Craft" and has been very popular in Japan since 1980. In recent years, Mashiko Pottery products have received great attention in the UK, New York and Taiwan.
**EXHIBITION OPENING PARTY
 6 September 2019 (Friday) 4:30 – 6:30 pm
 Location: ARTS & CRAFTS STUDIO, H401, 4/F., Block B, PMQ
To celebrate the opening of "Mashiko Pottery Exhibition", we will be holding an opening party at ARTS & CRAFTS STUDIO, PMQ from 4:30pm to 6:30pm on 6 September. Japanese sake and wine from Tochigi Prefecture, non-alcoholic drinks and light snacks will be provided at our party.
5 Mashiko potters, Mr. Takehiro ITO,  Ms.Yoshiko KASAHARA,  Mr. Masakatsu KURIYA,  Mr. Masayoshi OTSUKA, Mr. Ryuji MIYATA from Japan will attend our party and you will be able to engage in conversations with them. On that day, we will give out Mashiko sake cups to our first 30 guests! Please mark your calendar and save the date for our opening party! Don't forget to bring your friends along!
**MASHIKO POTTERY GALLERY TALK & DEMONSTRATION
7 September 2019 (Saturday)
 Gallery Talk: 2:30 - 3:30 pm (Doors will be opened at 2:00pm)
Wheel Throwing Demonstration: 4:00 - 5:00 pm
 Location: HUB PMQ, 7/F., Block A, PMQ
Have you ever heard of Mashiko Pottery? Come join our Gallery Talk on 7 September and find out more about Mashiko Pottery! 5 Mashiko Potters from Japan will give a talk on Mashiko Pottery and demonstrate how to make Mashiko Pottery at HUB PMQ.
An interpreter will be there to interpret everything into Cantonese.
Seats are limited, please register as soon as possible!
You can sign up for this Gallery Talk starting from 17 August 2019 (Saturday) 00:00 by:
Filling out the application form on

https://mashiko-pottery.net/hk/.

Sending a private message to "益子燒Mashiko Pottery Japan" Facebook Page (

https://www.facebook.com/MashikoPotteryJapan/

). Please let us know your name, number of participants, mobile number and email address.
Sending an email to artscrafts401@gmail.com

.

Please let us know your name, number of participants, mobile number and email address.
Organizer:

Tochigi Prefectural Government Hong Kong Office
Co-organizers:

Office Mashikonone Inc., ARTS & CRAFTS STUDIO
Cooperating Organizations:

Takehiro ITO, Yoshiko KASAHARA, Yuka UBUKATA, Noriko EKI, Kazuhiro OTSUKA, Masayoshi OTSUKA, Yoshihisa OKAMOTO, Moe KAWASAKI, Masakatsu KURIYA, Shikamaru TAKESHITA, Ryuji MIYATA
Supporting Organization:

PMQ Management Co. Ltd.
Public Relations Organization:

Hibiwaki