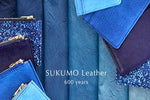 Aug 21 - Nov 20
Sukumo Leather Pop-Up Shop
at
 PMQ H408
SUKUMO LEATHER, EXCELLENCE IN LEATHER CRAFTSMANSHIP, HAS CHOSEN MAXDESIGN AS A "UNIQUE" PARTNER FOR AN AMAZING NEW COLLABORATION!
At the pop-up store at PMQ in Hong Kong (August 21st - November 20th), Maxdesign will introduce the Betty armchair and the Betty ottoman dressed in high-end leather produced by SUKUMO Leather Project.
Hong Kong, August 2018 – 3 months of excellence in Hong Kong where Made in Italy and Made in Japan shine together in an innovative project. where the philosophy has put in touch two excellent companies such as the Italian Maxdesign and the Japanese SUKUMO Leather.
During the pop-up at PMQ in Hong Kong (August 21st to November 20th) two incredible brands with the same mission based on quality, sustainabilityand elegance will introduce the Betty armchair and the ottoman dressed in high-end leather by SUKUMO Leather.
Customers will explore refined craftsmanship merging the worlds of fashion and furniture in a sophisticated way, distinguished by the natural indigo dye leather for which SUKUMO Leather is known worldwide. An international collaboration between Maxdesign and SUKUMO Leather: the two companies have teamed up to create an exclusive product bringing the best of both world's - Japan's unique sense of natural dyed indigo and the Italian know-how of exceptional upholstery craftsmanship.
The Betty armchair and the ottoman define what Maxdesign stands for: versatility, simplicity and functionality through the expression of form and materials.
SUKUMO Leather brings a new perspective to Maxdesign vision.
"I really admire the superior Italian craftsmanship and the strong, recognizable identity of Italy – says Makoto Horii, SUKUMO Leather's CEO.  Hope we could combine our traditional culture, sensitivity and emotion of Italy and Japan and create a new value for the future! The diagonal stripes design is the best because it really gets the Italian feel in this design."
Vincenzo Cressatti, Commercial Director by Maxdesign, confirms this vision "it is a great honour to be able to give life to this project together with a brand that represents the perfect synthesis between modernity and tradition".
SUKUMO LEATHER, TRADITIONAL CRAFTMANSHIP
In Japan, the veneration of indigo, called Ai, homophone of the word «love», is strongly rooted in tradition. With antimicrobial properties, it's used to protect against vermin and also from bad luck. Countless objects were thus dyed in indigo colour, such as linen, kimonos, but also mattress covers, headgear, etc. The art of indigo dye resists the progress of the chemical dye industry thanks to the passion of some Japanese artisans like Asai Naoyuki. Working in Kyoto, he uses traditional methods, but continues to explore new possibilities, including the dyeing of indigo leather under the SUKUMO Leather brand.
The SUKUMO Leather is given its unique indigo colour in a completely natural process. Following a 600-year-old Japanese tradition, the dye is made from the fermented leaves of the mature indigo. The dye, Sukumo, is produced in the Awa district of Tokushima Prefecture. The different available patterns and indigo hues can be combined to the customer's requirements to provide a worldwide unique association.
MAXDESIGN, THE PERFECT PARTNER FOR ELEGANCE
Maxdesign, located in the province of Treviso, focuses its production on seats (chairs and upholstery), tables and furnishings with a contemporary, essential, highly functional and user-friendly design, combined with remarkable physical and visual lightness. Maxdesign's main ability is to renew itself – in terms of incessant ergonomic research, specialized production with innovative materials, accurate colour studies, collaborations with the most versatile talents on the international creative scene – without ever losing sight of its fundamental objective: human well-being in living and working spaces in continuous transformation.
The history of Maxdesign begins by using the complex, but at that time cutting-edge, technique of plastic bi-injection molding. Afterwards, with their playful and emotive content the So Happy and Ricciolina collections soon became long-selling classics. Collaborations with designers of the calibre of Marco Maran, Gabriele Pezzini, Hannes Wettstein, Studio Hannes Wettstein, Dominic Symons, Dunja Weber, Marco Acerbis, Tomás Alonso and Christoph Jenni have accompanied the company in its constant reinterpretation of the contemporary world as a continuous opportunity and challenge for evolution and development. Over the years, Maxdesign opened to new scenarios. More recent additions include the versatile Stratos collection of seats by Studio Hannes Wettstein; the Offset collection by Tomás Alonso, an ultra-flexible system of tables and modular units equally suitable for use at home, in the office and in the contract furniture industry; Appia & Appia Work, a complete collection for the essential office, long lasting comfort and ergonomics. More recently, Maxdesign presented a new seating program, Max, a collection of chairs and armchairs, highly versatile with single interchangeable elements.
Two more mainstays of the company's production are high quality and environmental sustainability, reflected in the use of less polluting and recyclable materials and in the certifications obtained under the ISO 14001 and ISO 9001 standards.
The Maxdesign collections are distributed through an international sales network and displayed in selected showrooms worldwide.
THE DESIGNER: CHRISTOPH JENNI
Born in 1976 in Rio de Janeiro, Brazil, as a son of Swiss immigrants. After moving to Switzerland, he studied industrial design at FHNW in Aarau. Until 2010, he was a furniture designer at Studio Hannes Wettstein in Zürich, before opening his own studio in Aarau. Christoph describes his work as a synthesis of his Brazilian heritage and Swiss education, combined with the precision and formally calm experience he made while working for Hannes Wettstein.
3 MONTHS OF POP-UP AT PMQ HONG KONG
AUGUST 21st - NOVEMBER 20th 2018
PMQ Hong Kong - H408 Showroom
35 Aberdeen St, Central, Hong Kong
For Enquiry : Sukumoleather@gmail.com / Tel: 6489-6667